Are You Underweight? Add These Nutritious Superfoods in Your Daily Diet and Experience the Weight Gain in 30 Days in a Healthy and Natural Way.
Hello Buddy, we all agree that in this age of modernity and competition, an effective personality matters a lot. For this, it is very important to remain fit and maintain a balanced weight according to age and height. Today, we see many people around us who are underweight. Due to this, they suffer from inferiority complex and lack in their confidence. Sometimes, people make fun of them. In addition to that, they also look like a patient of malnutrition as if they do not get anything to eat. No doubt, having low body weight or thinness is a matter of worry. We often find people advising on how to reduce obesity, but no one talks about how to gain weight.
This article is for those people who are suffering from underweight and have made all effort to gain weight but could not succeed. Through this article, we want to tell them not to worry as there is a way to gain weight. There are some easily available super effective nutritious superfoods which are available in every kitchen that help in weight gain within 30 days.
Before Moving Ahead Let's Click Here For Our Body Mass Index
Reasons for Being Underweight
Before taking about the superfoods and how they help in weight gain, let us first understand the reasons for being underweight.  There could be multiple reasons for being underweight. However, if a person is not suffering from any diseases, nutritional deficiency can be the major reason for underweight. Other reasons that are responsible for weight loss include, loss of appetite, anxiety, insufficient sleep and side effects of medicines.
As nutritional deficiency is one of the major reasons for weight loss, let us how to fill this deficiency. There are multiple superfoods used in our kitchen in day to day cooking. But unfortunately, many of us are not aware of how nutritious these superfoods are and how they can help in rapid weight gain.   
How To Gain Weight In Natural and Healthy Way
For many people weight gain is as difficult as losing weight for others. However, including nutritious foods in the daily diet can help in weight gain easily in a healthy and natural way.
Before we know about these nutritious foods that help in weight gain, let us ensure to follow some discipline in our daily eating habits.
Instead of eating three meals a day, take five meals in a day. It is advised to take three big meals a day and between them take 2-3 small meals of snacks, fruits and shakes. snacks. In this way, keep eating something every 2-3 hours. Gradually, one needs to increase the quantity of food intake.
Include more high-calorie foods in the diet. Dry fruits like almonds, raisins, figs, walnuts etc., are rich in calories and helps in weight gain in a healthy manner.
Take a Sufficient Amount of Fat
To gain weight, it is important to include cheese, butter and ghee, etc. in the diet. These fat foods can be consumed indirectly in the meal as a part of cooking.
For weight gain, it is important to take more carbohydrates in the food. Superfoods such as flour, rice, honey, nuts, butter etc., are rich in carbohydrate. This increases the weight in a natural way.
Avoid drinking coffee and tea and make a habit of drinking fruit juice and shake. This will help to keep energetic and increase weight in the right manner.
A protein-rich food is very beneficial in weight gain. There are plenty of food items which are a natural source of protein. To gain weight, one should include protein-rich foods like sprouted gram, chicken, rice, milk or milk products, soya milk, fish, legumes, nuts, beans, etc., in the meal.
Along with a balanced and nutritious diet, it is important to ensure that body is fit. It is important to understand that one needs to have a fit body, not a fat body. Some exercise or yoga is important to speed up blood circulation in the body and also to increase appetite.
Sufficient sleep is extremely important for healthy weight gain. At least 8 hours of sleep a day is required by the body to function properly and help in gaining weight. With adequate sleep, the body will get complete rest and the energy level will be higher than before.
Read Here: Super-Foods and Food Ingredients That HelpWeight-Loss and Reduce Obesity
Superfoods: A Healthy and Natura Way To Gain Weight in 30 days
1. Banana and Milk – For Enery and Nutrients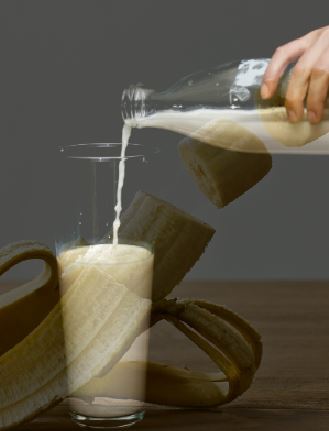 Eating a banana is considered one of the most effective and easiest ways to gain weight. It contains a good amount of fat and sugar. This provides energy and nutrients to the body. Banana with milk is even more beneficial. Taking milk and banana in the morning breakfast increases the weight rapidly and the results will be visible within a month. 
2. Eggs- For Healthy Weight Gain
Many elements are found in eggs such as protein phosphorus vitamin sodium carbohydrate magnesium potassium. Protein itself is a nutrient that helps in weight gain as well as weight loss. Fat and calories are also high in eggs. Hence, eggs are considered to be a very good diet for healthy weight. However, it is important not to eat raw eggs as this can cause serious health problems.   
3. Almond- High Calories Help Weight Gain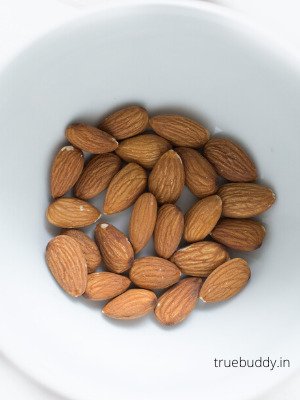 Almonds contain a massive amount of nutrients like protein, vitamin E, fat, and many more. It is a moderately high source of calories, that helps both as a weight-loss or weight-gain diet.  For weight gain, soak 4-5 almonds in water overnight and grind the next day and dissolve in milk and drink. Eating almond mixed with high-fat foods like milk, chocolate, sugar-based deserts, etc helps to gain weight very fast and effect can be seen within a month.
4. Eat Starchy Foods like Potatoes and Corns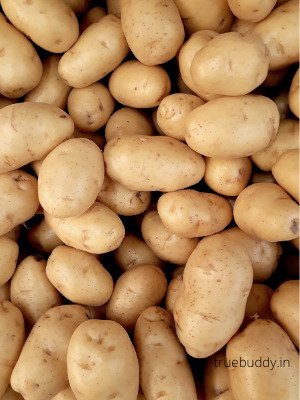 Potatoes contain more carbohydrates. Carbohydrates help a lot in weight gain. If you want to increase weight quickly, eat boiled potatoes or potato vegetables in the diet. You must be wondering how potatoes can increase your weight. Due to the presence of carbohydrates and complex sugar, weight is bound to gain if potatoes are included in the daily diet. Potatoes can be cooked in different ways to add taste to your food. Along with starchy foods, including potatoes and corn in your diet.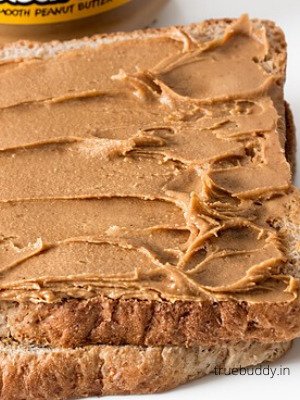 Peanut butter contains a lot of protein. In addition, it contains unsaturated fat. Both protein and fat contribute to weight gain. One teaspoon of peanut butter contains at least 100 calories. It also contains magnesium, folic acid, vitamin B and vitamin E. Eating peanut butter on brown bread slices increases calorie intake and helps in rapid weight gain. Due to its anti-oxidant property, Peanut butter is a healthy diet.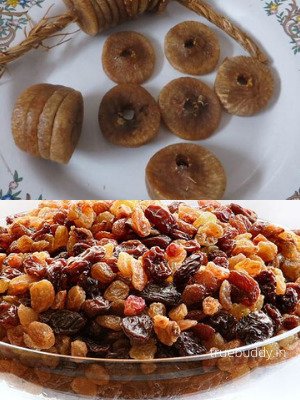 Raisins are a good source of carbohydrate along with many other nutritional benefits, which are high in calories. Hence, eating 25 to 30 grams of raisins helps in quick weight gain.  Similarly, figs are another dried fruit that contains a lot of calories. 
The right way to eat raisins and figs is to soak them in water for overnight and eat next day two times. Both raisins and figs contribute to weight gain in a healthy manner. With its regular intake, the difference in weight is seen within a month.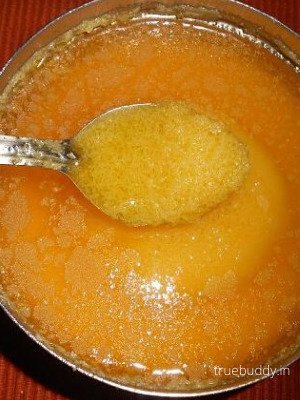 Pure Ghee contains a very good amount of saturated fats and calories. This helps in weight gain.  Ghee can be consumed by adding in the food or can be eaten along with sugar.  However, it is important to consume a limited quantity of ghee.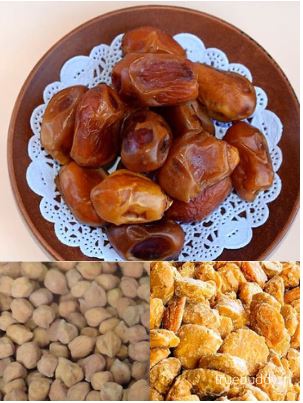 Dates contain sugar, vitamins, and protein which helps in weight gain. Those who are underweight are advised to eat two to three dates daily to gain weight. Because of its nutrients, dates give energy to the body and relieve from laziness. Dates are helpful in increasing the hemoglobin level of blood. People suffering from thinness and anemic should eat this superfood.
Grams contain a good amount of protein, fiber, minerals, vitamins, and iron. Eating soaked grams with jaggery is as effective as dry fruits. This is one of the easily available superfoods which is cost-effective and very helpful in weight gain. One should eat this every morning as breakfast.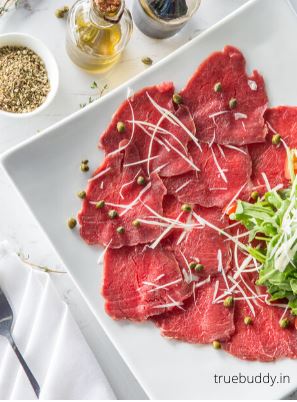 Red meat is the best source of protein that helps in increasing body muscle. Due to this, most bodybuilders, athletes and fitness freaks prefer this in their diet. Along with protein, it also contains fat which can be stored in the body as fat and helps in weight gain.  Those who are non-vegetarians should eat red meat two to three times a week in their meal. It is important to eat red meat in a limited quantity only.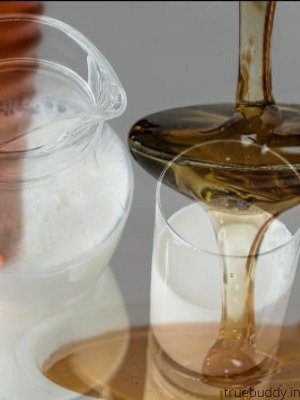 Drinking one glass of hot milk mixed with one spoon of honey is beneficial in weight gain. While honey has anti-oxidant, anti-bacterial, and anti-fungal properties, milk is a complete food. Consuming them together works like a medicine for health. For weight gain, one should drink milk mixed with one spoon of honey twice daily. Along with weight gain, it also improves digestion. 
To Conclude
By following the advice in this article and the superfoods suggested, one can certainly see a weight gain in 30 days. However, it is important to be disciplined and keep patience. There is no side effect of any of the superfoods suggested here. However, those who have any allergy or prior health problems should take doctor's advice before eating these superfoods.